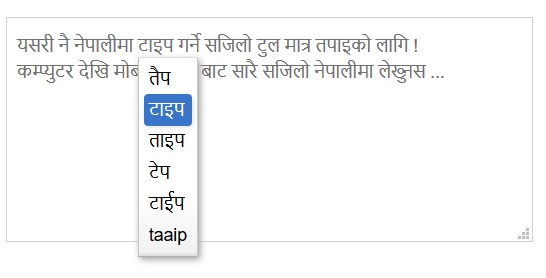 Nepal has it's own mother tongue language 'Nepali' (mostly used language in Nepal although there are many regional languages) which can be written using Devanagari, Kantipur scripts etc  if we want to type Nepali in our computer. So if you want to Type Nepali you need to install any of these Nepali font and practice it with your keyboard. This is really tedious job, if you only  want to type in Nepali for short term and non-official purpose.
If we want to update our Facebook status, Whatsapp messages or send your Friend mail written in Nepali then of course you will hate to practice as it can take some time. Then you will thank the developers of Nepali Unicode which helps us to make it easy to Type in Nepali.
Well it's not magic but the game of Codes which easily helps us to type in Nepali without practicing any Keyboard pattern. Today we have the online Nepali typing tool which is Roman to Unicode converter used as Nepali Typing tool powered by Google available here so you can easily type anything in Nepali and share it with the world. You can also use tool to type in Hindi as the languages Nepali and Hindi both used Devanagari.
You can use this online easy Nepali typing tool to type in Nepali. If you liked and think this is useful then don't forget to share this type in Nepali tool among your friends.

Note: If you use android or iPhone mobile, you can save this page on your Device and use it later.