Tourism
Paragliding in Sarankot Pokhara, Nepal
By
|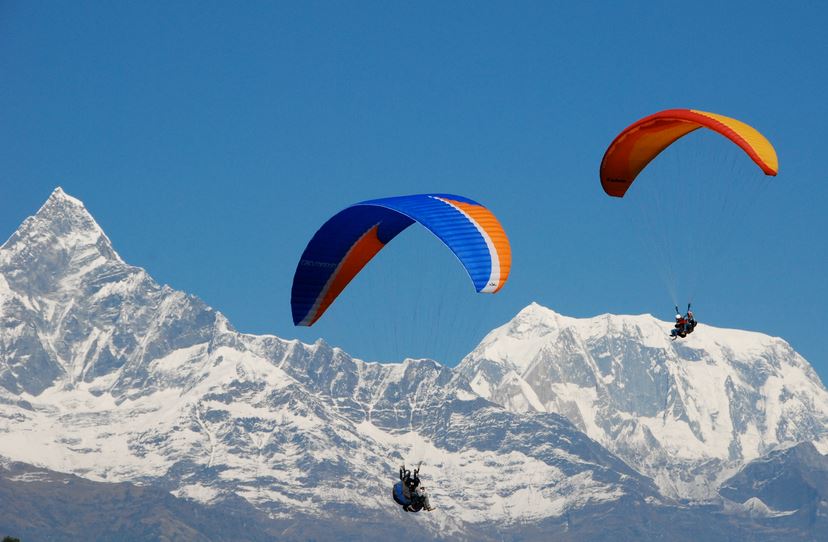 Pokhara is  full of adventure and Paragliding is one among them. If you are planning to fly in the sky of Pokhara then you might be happy to know that Pokhara is one of the top 5 commercial paragliding location in the world with convenient take off and landing zones including the heavenly view of mountain and lakes during your flight.
Well the 20 minute ride begins from Sarankot where you takeoff along with your pilot directly in front of the Annapurna. You can view beautiful mountains around you with Lake below. As Paragliding season is from September until June as the weather remains stable but if the weather is favorable it takes place upon demand. It is really amazing and adventurous for paragliding in Pokhara.
You can find more than dozens of companies offering paragliding in Pokhara most of which you can find along Lakeside. It is always good if you book your Paragliding flight with the company directly instead of booking via agents or Hotels as the price may vary.
While talking about the Paragliding Prices in Pokhara it may vary upon companies to companies but you can expect these price. Also you have to go to the hill from Pokhara city in the morning as you will be picked up by a Vehicle to drop you for Sarankot where your flight begins.
Solo flights: Starting $65
Tandem flights: Starting $85 for 30 minutes
Paragliding Lessons: Starting $390 for 3 days, $680 for 5 days etc.
So if you are coming to Nepal then don't miss for a Paragliding flight in Pokhara. You will definitely love it.