Country: Nepal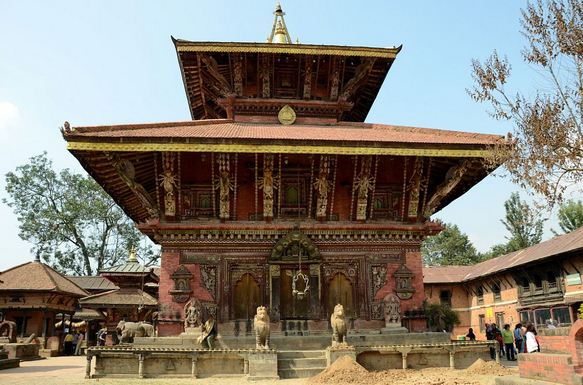 District: Bhaktapur
Primary deity: Vishnu
Important festivals: Teej, Haribodani Ekadasi, Naag Panchami
Architectural style: Pagoda
Other name: Garuda Narayana
Coordinates: 27°42'58.6"N 85° 25'40.4"E
Changunarayan temple is the name of the deity enshrined in the Changunarayan Temple. The Temple is located near the changunarayan village in Kathmandu valley. It is the oldest Temple of Nepal. It is dedicated to lord Vishnu. The Temple is believed to have been constructed in 4th century. A stone slab discovered in the vicinity of the Temple dates to the 5th century, and is the oldest such stone inscription discovered in Nepal. The Changunarayan Temple is one of seven structures cited by UNESCO as demonstrating the historic and artistic achievements that make the Kathmandu Valley a UNESCO World Heritage site.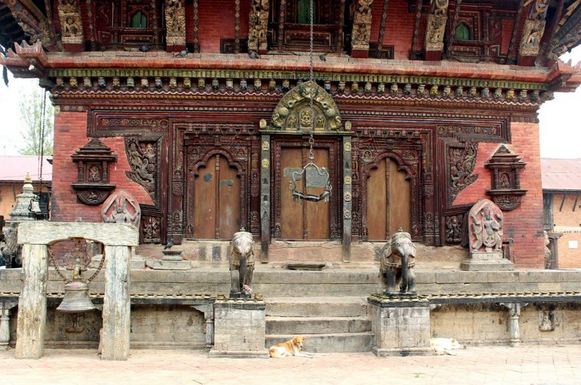 Changunarayan Temple has greater importance than the others. The statues, and the Temple itself, are genuine works of art. Changunarayan is beautiful and historic Temple in a living museum of carvings from the Licchavi period. It remains a milestone in Nepali Temple architecture with rich embossed works. According to the professor, Department of Sociology and Anthropology, the Temple is neither in shikhara style nor the pagoda style. It has an architectural style which professor would like to describe as a traditional Nepali Temple. The Temple is surrounded by sculptures and arts related to Lord Vishnu. There are four entrances to the Temple and these gates are guarded by life size pairs of animals such as lions, sarabhas, graffins and elephants on each side of the entrances. The ten incarnations of Lord Vishnu and the other idols are carved in the struts, which support the roof. The entrance door is gilded with carvings of snakes. On the main entrance gate, we can find the chakra, Sankha, Kamal and Khadga all at the top of a stone pillar. These stone pillars have an inscription in Sanskrit.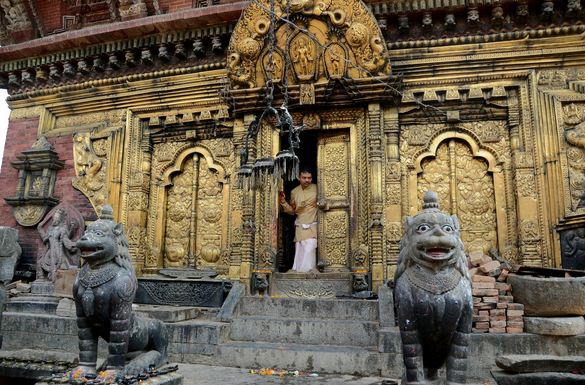 This inscription is considered to be the oldest inscription of Nepal and the stone inscription pillar was erected by Lichhavi King Manadeva in 464 AD. The valuable stone sculpture and ancient inscriptions have archeological, historical and cultural significance. Historical pillar, Garuda, statue of Bhupalendra malla, Chanda Narayan, Sridhar Vishnu,vaikuntha Vishnu, Vishnu Vikrant, Kileswor, Vishworup are the monument located while visiting the Changunarayan Temple. The main in the sanctum is worshiped by Hindu as a Garudanarayan. Only priest is allowed to see the image.
There is an ethnographic museum inside the building of the Temple. A private museum is also located on in the Changunarayan on the way to Temple. It is the first private museum of Nepal and it has the collection of ancient coins, tools, arts, and architectures. The museum has a good collection of ancient tools used by Newar family during the medieval period. There is an excellent collection of ancient, historical, artistic, religious, archaeological, cultural and other rare objects. Since the ancient period many festivals and fairs have been organized on various occasions. Changunarayan Jatra is one of the main festivals of Changu. The festival 'Mahashanan' held here as an important festival. Changu Narayan Jatra is one of the Tourist Attraction in the place.